---
The DXCluster window provide the operator with a simple terminal program to their favorite DXCluster, TNC based for a local RF system or via a TCP/IP connection to an internet based system. The tabs at the top labeled Cluster and Spots will switch the view between the Cluster terminal and a list view of the current DX spots sorted by the latest spot.
The terminal display works just like any terminal, the upper window is for the received text and the lower window is for the transmitted text.
A row of 10 macro buttons are provided so the user can program often used commands. To program a macro button, Right click the button and the macro editor will be displayed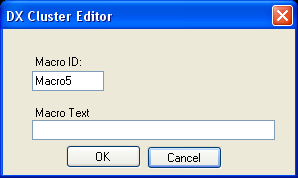 As information is received from eh DXCluster, it is display in the upper receive window, the incoming text is also parsed for the DX tag. DX spots will be formatted and added to the top of the DX list view which can be displayed by clicking the spots tab.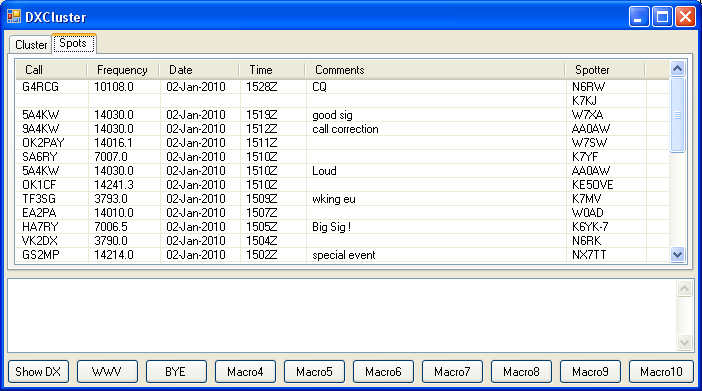 When the DXCluster windows is open, the Send DX Spot menu item onthe Options menu will be enabled to facilitate and easy method to spot the current logged item.
Copyright © 2009,2010 Steinkamp Software Solutions