Welcome to the home page for CallLookup, version 1.6.7. This software is an amateur radio utility for the lookup of an FCC issued Amateur Radio Call Sign.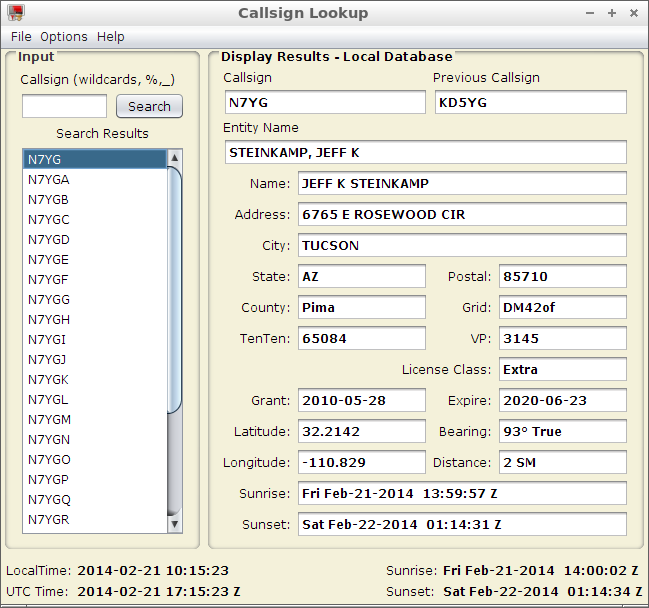 Standard Features
Look-up of US call signs

Wild card searches on US call signs

US Zip Code database

Access Data from Local Database or Call Sign Server

Geographic coordinates computed based on zip code

Display of Ten-Ten and VP numbers

Display of Sunrise and Sunset times

Display of License Class

User configurable background colors

User definable search functions

Save search output in CSV format

Automatically compensates for regional date formats

Batch File processing to CSV format

Runs, out of the box on Windows, Linux, and Mac
This software requires that a Java Runtime Environment (JRE) of version 1.6 or greater be installed on your computer. If Java is not installed, you can obtain the latest JRE from the Sun MicroSystems Website for all OS platforms.


Installing the Software:
If you are using a Linux or Mac, Download the zip archive and store that on your computer in a folder of your choice.

Extract the contents of the archive to a folder of your choice in the file system. If you are a Mac or Linux user, you probably want to do that in your home directory.

If you are using a Windows machine, 

Download

 the installer and run it to automatically install the program.
Launching the Program:

Windows: If Java is installed correctly, you should be able to double click the file Calllookup.jar and it will automatically run. You can also drag that to your desktop as a short cut. A windows icon file is also available.

Linux and Mac: A script file called startcl.sh is available that can be run to start the program from a command line or as an entry in your menuing system. A png file is also included to act and an icon for the menu or desktop application launcher.

With all computer systems, you can launch the program directly from a comma line in the folder where you installed everything.


            java -jar Calllookup.jar
The first run of the program will download the necessary data to create the local database. That will require about 15 to 20 minutes depending on the speed of your computer.
Browse the Readme File.